People stuck with "the old iPad" tweet all about it
26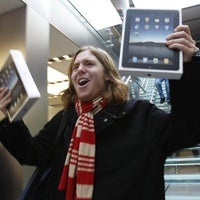 So,
the new iPad
got announced yesterday, and every geek in the world knew that it was coming. After all, the blogosphere did a great job at spreading the word weeks in advance. However, it appears that there were plenty of people who purchased the iPad 2 anyway as they were unaware of the new iPad's anticipated arrival. And what better way for them to express their frustration than tweeting all about it?
Below we have a selection of tweets by those poor souls who are now stuck with "the old iPad". Some bought an iPad 2 about a week prior to the new model's announcement, while other were unlucky enough to get one the very day before yesterday's announcement. Now, that iPad 2 that they own is $100 cheaper, while the new model is packed with a lot more bells and whistles than its predecessor.
Has anyone of you been in a similar scenario? If so, feel free to share your story with us by dropping a comment below.
Image courtesy of USA Today.