Pebble breaks Kickstarter records, raises $100,000 in 2 hours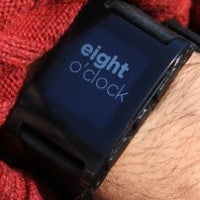 If you want to raise more than $100,000 in a mere 2 hours and have the project for this, there's probably one place on Earth where this could happen. Yes, Kickstarter. The team behind Pebble however broke all Kickstarter records and not only raised over $100,000 in 2 hours, but now has nearly $765,000, more than seven times the $100,000 of funding it originally asked for.
So what is Pebble?
The idea is simple - a Bluetooth watch that allows you to customize the way you view time, read SMS messages, play music, use it as a bike computer with its built-in accelerometer and integration with your phone's GPS. It's a little miracle phone resistant to scratches and splashes, with an e-paper display and lasting you nearly 7 days on a single battery charge.
The Pebble watch is
compatible with the iPhone and Android handsets
, and it uses their Bluetooth connection. It could drain the battery on your phone 5% to 10% faster as it requires Bluetooth. But the best thing about it is that the whole experience can be augmented via applications. You can use it for your runs and cycling, tracking your moves, and other apps are being developed.
Here are the highlights for Pebble:
Load apps using Bluetooth
144 x 168 pixel display black and white e-paper
Bluetooth 2.1+ EDR
4 buttons
Vibrating motor
3 axis accelerometer with gesture detection
Distribute apps via Pebble watchapp store
Check out the video below to see it in action and head to the source where you can support the projects - a pledge of $115 gets you one, and they are expected to ship around September if everything goes as planned.