Pathpartner demos 720p mobile Skype calls
3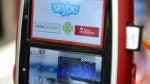 At the Mobile World Congress, Pathpartner demoed a new
Skype
app for Android devices. Their new videoconferencing tool will allow for 720p HD video-calls over Skype. They are still working on getting the app Skype-certified, and are hoping to make it a stock app on different handset makers' devices.
The senior technical lead of Pathpartner, Alexy Mathew Joseph, demoed the new app. It utilizes low-bitrate technology to ensure a smooth, high-def stream. We should mention that the demonstration was done over an Ethernet connection. But Joseph is confident that it will be equally smooth over both 3G and 4G networks.
Pathpartner chose to demo the app on some
Texas Instruments
devices, but they say it will be compatible with other devices. Joseph clarified that they haven't yet tested it with NVIDIA Tegra 2-based devices, but it's on their to-do list. Carriers are surely anxious to get their 4G infrastructures completely built, in order to prepare for the arrival of such data-intensive applications.
source:
Engadget