Patent filing shows that Apple could combine Face ID and Touch ID on future iPhone models
15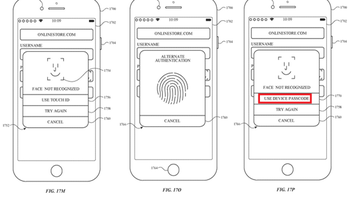 Based on the illustrations that accompany the patent application, an iPhone user who cannot verify an Apple Pay transaction with Face ID is then prompted to try Face ID again, or use Touch ID. If both fail, the phone asks the user to type in a passcode (see image at the top of this article).
While readers might note that Apple used an older iPhone design for its illustration, that is done by Apple as to not give away any future design changes that the company has up its sleeve. Since the application is for a utility patent, the design of the iPhone used in the drawings does not need to be precise. The patent's history does pre-date the release of the
iPhone X
, giving Apple a reason to show a phone with a Touch ID button on the bottom bezel. If Apple does offer Face ID and Touch ID in a future iPhone, we would expect the device to be equipped with an in-display fingerprint scanner.
It isn't clear whether Apple gave this idea some thought and decided to drop it, or if this is being considered for a future iPhone version. The patent, entitled "Face Enrollment And Authentication," was originally filed in September 2017, and deals mostly with how to register and use Face ID. The application has been assigned the number WO2018226265.
Recommended Stories