Passenger on Singapore Airlines flight is presented with $1171.46 bill for Wi-Fi service
22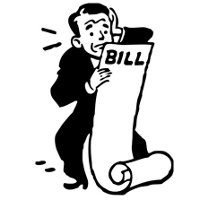 A gentleman by the name of Jeremy Gutsche ran up quite a tab on a Singapore Airlines flight from Heathrow Airport in London, to Singapore. Mr. Gutsche was presented with a bill for $1171.46 for his use of Wi-Fi during the flight. And no, watching video was not to blame. Jeremy says that the Wi-Fi service offered by the airline was painfully slow, and couldn't support the use of services like Netflix or YouTube. He claims that he had rung up 155 page views, mostly of his email.
For $28.99, Singapore Airlines will sell its passengers on certain flights, 30MB of data. That buys them 20 social media pages with pictures, 50 web pages, 20 plain emails and 15-minutes of streaming music. But Gutsche says that the service was so slow that it took him one hour to upload a 4MB PowerPoint document. He estimates that this one task probably cost him $100 alone.
Jeremy does admit that he was informed of the cost per MB of going over the 30MB cap, although no warning was sent out to alert him when he approached the 30MB limit. And who can figure out exactly how many MB of data that they have used? While Gutsche has taken to social media to try to get Singapore Airlines to reduce the bill, so far it seems that they won't budge. After all, the airline can point to Gutsche's own words stating that he fell asleep during the flight, while the meter continued to run on his Wi-Fi usage.
Let this be a lesson to those who purchase Wi-Fi data from the airline that they are traveling on. The airlines don't offer Wi-Fi on board just to make passengers happy. It is a profit center for them. If you can go without having connectivity for the duration of your flight, then you should do so. If you must have a connection, try to estimate how much data you've used. When you reach the data cap, switch to Airplane mode.
Mr. Gutsche's luck turned after he disembarked the plane, and checked-in to his hotel. As it turns out, the place where he is staying offers free Wi-Fi to guests.
source:
TrendHunter
, via
GigaOm
,
AndroidAuthority