Panasonic turns to Android to control its smart appliances
7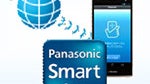 Android's ecosystem continues to expand – earlier this week we saw Nikon announce the first Android-powered camera, and now Panasonic is releasing a new home automation app and an entire line of household appliances that will let Android-wielding Japanese customers control thermostats, washing machines, starting their rice cooker, and checking up on their refrigerators with their phones and/or tablets. They are also releasing a series of healthcare devices that will enable consumers to track their daily calorie intake, blood pressure, and more.
All of the apps will incorporate NFC technology, so if you have installed Panasonic's app on an appropriately-equipped device you can simply touch your device to the appliance to transfer a recipe or schedule, get relevant information, or otherwise interact with it. The washing machine will be released on September 25th, and the other appliances are expected to roll out in the following months.
Alas, at this point the product line is only schedule for release in Japan, but there is increasing interest in "smart homes" that use mobile devices as a hub, so if they find success in Japan it wouldn't be a surprise to see similar products make their way into international markets in the coming year. Owners of iDevices aren't totally left out in the cold in Japan – the thermostat/AC unit has internet connectivity built in and can be controlled by either Android or iOS devices. It's possible that if NFC comes to the next iPhone we could see Panasonic embracing a wider mobile ecosystem.
source:
Panasonic
via
Android Authority
Recommended Stories