Panasonic announces two new "Toughpad" smartphones, but they are not for you
15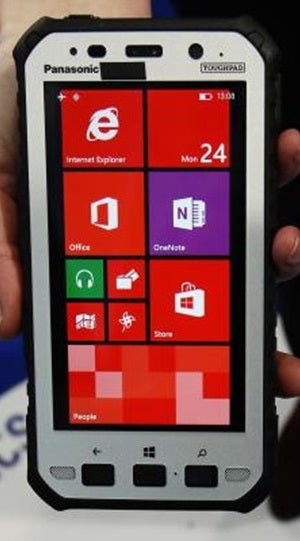 While Panasonic has
departed the consumer smartphone market
, its "tough" series of laptops and tablets will get two new smartphone companions in the business stable.
The rugged devices, dubbed the FZ-E1 and FZ-X1 Toughpads, Windows Phone and Android devices respectively, were announced today by Panasonic System Networks. Each share a robust set of specifications.
Designed for businesses with somewhat harsh operating environments, the Toughpads will only see an annual production of about 40,000 units total and they are not going to be sold commercially. That is a good thing since each one will cost roughly $1,300.
There is a lot of bang for the buck however, since the 3cm thick (yes, over an inch) devices are packing a quad-core Qualcomm Snapdragon CPU, LTE connectivity, 5-inch HD displays (albeit 720p) that can be used with gloves on, are dust-proof and water-proof and Godzilla-sized 6,200mAh batteries. A couple neat things about the batteries is they can be swapped out without powering down the device, and they can be rapid charged, up to 50% in the first hour.
Those batteries should provide somewhere north of 40-days standby time. The Windows Phone and Android devices look identical. In addition to being over 1-inch thick, they are 6.5-inches long, and 3.4-inches wide. They are nice and hefty too, just over 15-ounces.
There is a 1.3MP front facing camera along with an 8MP main sensor, both devices have microSD card slots, NFC, Wi-Fi (a/b/g/n/ac). The Windows Phone CPU is clocked at 2.3GHz while the Android uses a 1.7GHz quad-core unit. Both have 2GB of RAM and 32GB of storage. Being business devices, there is a built-in bar-code reader too, making these purpose built for the warehouse.
The Windows Phone FZ-E1 and Android FZ-X1 will be available to Panasonic's business clientele mid-June and late-August respectively.
sources:
Panasonic
(translated) via
WMPoweruser