Panasonic VIERA Tablets Hands-on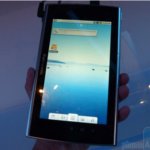 From big names to no names, it seems that just about everyone under the sun is taking the plunge into the tablet market. Outcomes can range from something extremely impressive, to other things that are, in our opinion, are easily forgotten in memory due to their lackluster approach and appeal to stand prominently in the vast open field. Panasonic has yet to fully commit into the smartphone or tablet market, but it appears that they're toying with the notion of entering the herd as we had the opportunity of checking two Android powered devices from their camp.
First up appears to be none other than the 7" Panasonic VIERA tablet running Android 2.2 Froyo which follows in tradition to other currently available tablets in the market. Neither awe-inspiring or scary at first sight, Panasonic's tablet feels fairly cheap in construction with its predominant silver plastic exterior. Compared to other 7" tablets, there is a lot more space surrounding the display, which ultimately makes it look and feel slightly larger.
Regretfully, its 7" display fails to captivate our attention primarily due to its lackluster visual allure and low quality screen – which seemed to be affected by some nasty pixelation. Regardless of that, we were still capable of touching the screen and navigating around the platform without much problems. Multimedia buffs will more than likely fall in love with its myriad of connection options since it packs things like a regular USB port, HDMI port, front facing camera, and what appears to be a dock connector. Unfortunately, Panasonic's booth didn't mention the actual hardware specs on the 7" VIERA tablet. Nonetheless, we find it running the stock Android 2.2 Froyo experience that should appease the needs of novice and casual Android users.
Second up is the Panasonic 4" VIERA tablet which appears to still be a prototype since it was missing some components from its casing – like an area which seems to be the spot for a front facing camera. Donning the same silver plastic casing found with the 7" model, it allows for a very lightweight feel in the hand, but it doesn't exude much of an overall quality feel because it feels rather cheap. Moreover, it has a boxy look that doesn't particularly jump out as visually appealing. However, instead of employing touch sensitive buttons, we find physical ones instead that are distinctive and easy to press down. Again, hardware specs for the Panasonic VIERA 4" tablet were not made known at the booth.
Software wise, we also find the device running a stock Android 2.2 experience that looks fairly responsive from an initial glance. However, Panasonic is making a push for cloud-based services, such as video streaming and e-books, with both Android powered tablets. Even though there is an abundant amount of tablets on hand at CES, Panasonic will really need to retool their VIERA tablets in order to get that coveted notoriety amongst consumers.