Palm webOS begins rebranding as HP webOS
0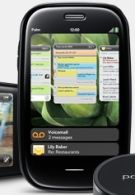 An entry in the Palm Developer Center used 'HP
webOS
' for the first time on record. Since their
purchase of Palm
, HP had not yet branded the OS as their own.
The entry might not mean anything, particularly considering the entry has already been taken down. A graphic artist might have been overeager, or just made a mistake in referring to it as 'HP webOS'.
It does bring up important questions about how they will brand webOS. If they continue to call it 'Palm webOS', some users might get confused about it being an
HP product
. If they call it 'HP webOS powered by Palm', that would be long-winded.
Calling it 'HP webOS' should provide enough credibility for those familiar with HP (but not Palm), and having 'webOS' in there will be enough for those in the know.
source:
PreCentral