Palm cans Ad agency Modernista, seeks new direction
This article contains unofficial information.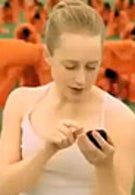 According to Advertising Age, Palm has finally decided to fire ad agency Modernista and is currently looking for a new ad house. Modernista was responsible for the awful Palm Pre spots featuring a very pale looking woman. No surprise that the handset, once considered a worthy adversary to the iPhone, ended up selling poorly. While the weak sales cannot be blamed totally on the advertising, Verizon's success with the Motorola DROID following a $100 million ad campaign shows the magic that can happen with a great phone and commercials that the public can relate to. At the time of its launch, the Pre had many good reviews but the low number of apps combined with the questionable ads did in the webOS device. Before Palm and Sprint could rebound, the beginning of Androidmania was underway and even getting a new lease on life at Verizon was not able to boost sales.
Where did Modernista go wrong? Commercials for two hot selling models, the Apple iPhone and the Motorola DROID, show each phone at work whether it is using apps in everyday situations or explaining in simple English that a certain handset does specific functions. Both models show useful things that real people want their phone to do. On the other hand, in the Pre ad below, the subject is reincarnation and the model says that before the Pre, she couldn't keep track of the lives she was living much less recall her past lives. For most people, this would not be considered a function that they would need their smartphone for. Palm isn't the only account that Modernista has lost recently. the ad agency lost its biggest account-GM's Cadillac brand-late last year.
source:
AdvertisingAge
via
Engadget