Palm Pre 2, webOS 2.0 introduced by HP
17

Not exactly a surprise, HP has introduced the Palm Pre 2 powered by webOS 2.0. Despite the difference in reception from the introduction of the original model of the handset and the OS, there are some real changes here that could make the Palm Pre a competitor in the smartphone wars. The device now has a 1GHz processor under the hood, and while those who see the glass half empty might say that Palm should have just waited to launch with a 1.2GHz chip, the glass is half full guy would note that there is a holiday shopping season to be concerned with. The Palm Pre 2 will launch this Friday in France by SFR, with Verizon getting the honor of kicking off the U.S. release "in the coming months".
Other features of note include a 5MP camera on the back with LED flash and video capture. The Pre 2 now features a smooth glass touchscreen, which unfortunately still measures only 3.1 inches with resolution of 320 x 480 pixels (apparently Palm designers didn't read the reviews on the BlackBerry Torch 9800). The Palm Pre 2 will support up to 16GB in microSD storage in a "sleeker" package.
The changes to webOS 2.0 include the capability to have true multitasking. You will be able to easily switch between apps without having to shut anything. Related apps are stacked together to help things run smoothly. "Just Type" allows you to start an e-mail, create a message, head to a web site before you even open an app on the phone. All you need to do is... just type. Exhibition is a program that runs automatically when you use the Touchstone charging dock. While your phone is charging, you will be able to see your calendar, view a sideshow, or use any app designed for use while the phone is getting powered up. Finally, what you webOS fans have been waiting for, the new build comes with a beta of Adobe Flash Player 10.1 in the browser. For more information, and to sign up to receive details from Palm as the phone draws closer to a U.S. launch, visit the source link.
The million dollar question is, has HP and Palm made the changes required to get the Palm Pre 2 and webOS2 back in the game? Certainly the software seems much improved, but since the introduction of the original Pre back in January 2009, screen sizes and resolution have improved greatly. Can the handset's 3.1 inch screen cut it in a world of 4 inch Super AMOLED displays?
Palm Pre 2 Specifications
source:
Palm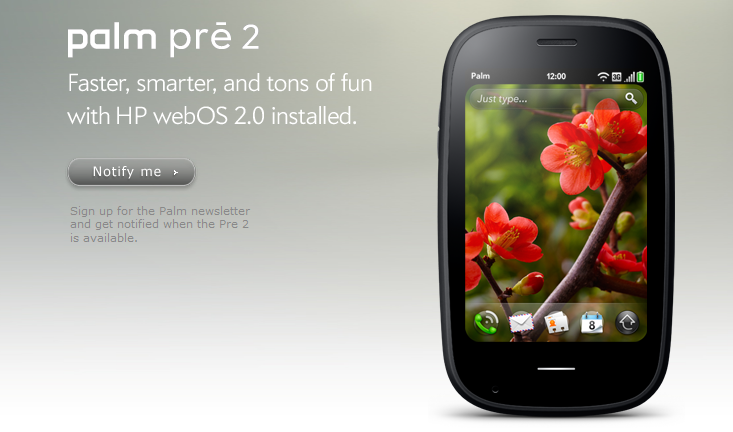 The Palm Pre 2 now has a 1GHz chip under the hood