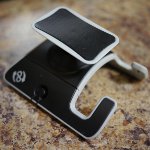 Now it would be great if every smartphone and tablet featured some kind of integrated kickstand, like the
HTC EVO 4G
&
4G LTE
, but as we all know too well, that's hardly the case. Remedying just that, there is an assortment of cases out there with kickstands of some kind to prop up our devices, but you normally need to place it on a flat surface to work properly. Well, if you want something that does just that and enables you to conveniently view your device on your lap, you might be interested in the
PadPivot NST
.
Essentially, the PadPivot NST is a collapsible universal stand that features a new
Nano Suction Technology
that allows its adhesive pad to stick onto any glossy surface – and in this case, smartphones and tablets. Testing it out with a bunch of devices, it's amazing that the adhesive pad manages to really keep things firmly still in place. And without much movement too! Even better, it'll work with devices that are in cases too, as long as the surface of the case is glossy of course. Moreover, the
pivoting stand
allows for several propping configurations.
If you have your hands full with other things, you'll surely appreciate the PadPivot NST's
ability to be strapped onto your leg
too for a better hands-free experience on the go or at home – well, with the aid of a tether strap for extra support and stability. Indeed, it's a bit weird having to strap this thing onto your leg in public, but hey, if it's something that maximizes your productivity, it's not doubt going to keep your hands free for other things.
With a
$40
price point, it seems reasonable enough – especially when its adhesive pad doesn't leave any messy marks on our devices.