P&G will reveal the world's first smart-toothbrush at MWC 2014
7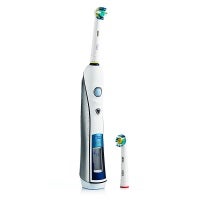 Procter & Gamble announced theworld's first smart-toothbrush. It's an Oral-B electric toothbrushthat connects to a smartphone app via Bluetooth 4.0. It displays your cleaning progress in real-time, alerts you about any parts ofyour mouth whose brushing you neglect, and warns if you are scrubbingtoo hard. You can customize your own "brushing routine"and consult your dentist for the best cleaning method.
Preliminary testinghas shown that the smart-brush will actually make you smarter aboutyour teeth. Paired with a smartphone app, it extended the subjects'average brushing time from less than a minute to around two minutes.
The Oral-B flagship's launch date willbe revealed at MWC 2014 in Barcelona next week. Its recommendedretail price in Europe will be about $300 (219 EUR). As well-intendedas this product is, the future where technology will dictate how wesleep, walk, cook, date, and live our lives in general appears to beinching closer every day. According to a recent Gartner report, by2017 one could be connected to more than a hundred apps and servicesdaily.