Overly aggressive in-app purchases are ruining Angry Birds 2, say users
22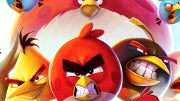 Having been downloaded 10 million times in just a few days, Rovio's
Angry Birds 2
could well reach the dizzy heights of the very first title, which propelled the Finnish company into a billion-dollar app-making machine. With a boatload of new levels, improvements to gameplay and a general makeover some six years on from the first edition, it seems another banker for dominance across the App Store and Google Play. But the free-to-download title, some users claim, is structured in such a way that it coaxes users into spending money, and this, in turn, greatly hinders the experience.
The mobile gaming landscape has shifted quite a bit since the launch of the original Angry Birds back in 2009. Where casual bird-slingers were happy to part with a small upfront fee for the privilege of destroying unstable swine hangouts, the notion of paying for an app is almost unheard of in today's whirlpool of casual titles. The model of free-to-play or so-called 'freemium' titles is now ubiquitous, and when Angry Birds 2 -- the spiritual sequel to the original game -- was announced last month, it was inevitable that Rovio would be sticking to the script. Early adopters of the new game aren't impressed, though, with many sounding off on Twitter and other mediums about how over-zealous in-app purchase tactics are spoiling the fun.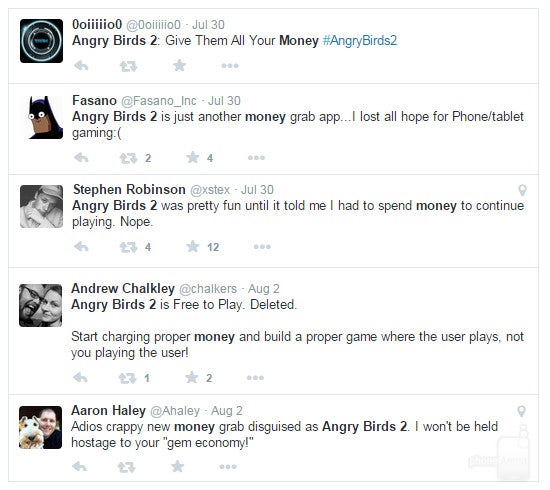 Essentially, the game follows the tried-and-tested Candy Crush routine. You get five attempts within a certain amount of time to complete a level, and if you use all five, you're reduced to a waiting period. You can add extra lives using the game's own currency of Gems, but while you can accumulate them without parting with any money, it's likely to descend into tedium if you don't. As with Candy Crush, getting stuck on a level can require a fair amount of practise runs to conquer, and if you can only do five in one swoop, you're going to lose momentum.
There are other elements that can be explored provided that a decent inventory of Gems is available. But stocking up on lives is key for those trickier levels, and while Rovio's defense is that users still get a fully-fledged game even if they don't pay, a few bucks here and there for a refill of lives may seem more favorable than raised blood pressure.
Overall, it's a gray area that developers and consumers just don't seem to agree on. This isn't the first time that users have bemoaned in-app purchases, and while the consensus is that most like to pay a flat fee up front, apps are a business through which revenue must continue to flow.
Personally, since it's free to play, use and enjoy, I can't agree with the idea that people are somehow hard done by because they are asked --
asked
, not forced -- to cough up a few bucks here and there. Sure, it's annoying to feel like you're being shaken down by a title that you enjoy, particularly when you'd be more than happy to pay a few bucks initially to own the full game. But this, for better or worse, is how things go nowadays, and unlike those stock apps that bloat out storage, you can always delete the game if you don't agree with its tactics.
Do you agree? Or do you believe that the game and others like it are tainted by the perceived overuse of IAPs? Let us know what you think via the comments.