Ouya to have Final Fantasy III at launch
6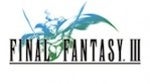 The Ouya team has been hard at work finding partnerships to help make the Android powered game console a hit when it launches next year. The newest deal seems to be with Square Enix to bring Final Fantasy III to the console. Square Enix announced yesterday that the company plans to have the game ready to be a launch title for Ouya in March 2013.
This means that the game will be optimized to run on the Ouya console, and theoretically that it would also be optimized to run on large TV screens. There was no price announced, but given that FF3 is available in the
Google Play Store for $15
right now, we would expect the price to come in at around the same point. There will be a free demo of the game, in accordance with the Ouya rules which dictate that "at least some gameplay has to be free."
This is a big announcement for Ouya, but it does raise a couple of questions, the biggest of which is how the team is planning to distribute games and apps for the platform. It would certainly be possible for Ouya to run the Google Play Store, but it seems unlikely that would be the plan. The console itself is priced at just $99, so the team would likely be looking to make money on distributing the software.
We have reached out to Ouya asking about game distribution, and we'll update you if they answer.