Our impressions of the Verizon iPhone 4S
99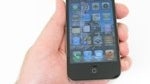 By now, you may have already read of full review of
iPhone

4S for Sprint
, but since we now have the Verizon model and have used it for a few days, we wanted to give you our impressions of it.
The 3.5"
IPS TFT Retina Display
on the iPhone 4S remains unchanged - while most of its Android competitors are at 4" or larger. Be that as it may, the
quality is stunning
, as text and images are incredibility clear and sharp. When placed next to the Motorola DROID BIONIC with its 4.3" qHD display, the difference in the screen size is quite noticeable, but so is the quality, as images and text on the DROID BIONIC can look a bit jagged at times (depending on the content) due its PenTile TFT display.
Since we had sunny South Florida day, we decided to take a few pictures with the iPhone 4S, and they did produce eye-pleasing results, with good color and detail. We can't really say the camera on the iPhone 4S is quite good as our Canon A650 IS digital camera, but it still remains above average for a cell phone.
For videos, the iPhone 4S records at 1920x1080p HD. When played back on our PC, the video had plenty of detail and colors were nice and natural looking. It also was smooth at 30 frames-per-second, but when moving the camera around fast, it did cause a bit of a wobbling effect.
For benchmarking data speeds, we used the popular SpeedTest.net app. During peak day hours,
downloads were under 1 Mbps
(averaging around 0.70 Mbps) and uploads were about 0.60 Mbps. But in the middle of the night, we would see downloads above 2 Mbps. When loading our PhoneArena.com web site, the iPhone 4S would take about 25 seconds to load, but keep in mind that since Flash is not supported on the device, it's not downloading that extra content. We can also tell that the dual-core processor is helping to speed up the rendering of pages.
Call quality was excellent
on the iPhone 4S - in fact we'd say it's one of the
best sounding phones
we've used with Verizon. Voices were very accurate sounding and with full-range tones (similar to what we'd get when using a land-line) and there was absolutely no background noise. Even when we turned the earpiece speaker volume all the way up, there was no rattling sound, which is common on some phones (such as the
HTC



ThunderBolt
).
The battery life on the Verizon iPhone 4S echos what we got on the Sprint model, as on a full charge we'd get close to 7 hours of continuous talk time - 1 hour less than what it's rated at. For mixed usage, which includes some talk, texts, emails, web and app use, and some stand-by time, the battery would last us nearly a full day, though if you're using it non-stop power user, prepare to keep a charger with you.
Overall, the Apple iPhone 4S for Verizon is pretty much the same as the other carriers' models. It feels well made with high-quality materials used in its construction, and not cheap and "plasticy" like so many other smartphones that we test out. The only thing that we felt was missing was support for Verizon's 4G LTE data network. Hopefully we'll see that happen in the next version.