Our iPhone 8 Plus battery life test reveals the best endurance from an iPhone yet
99+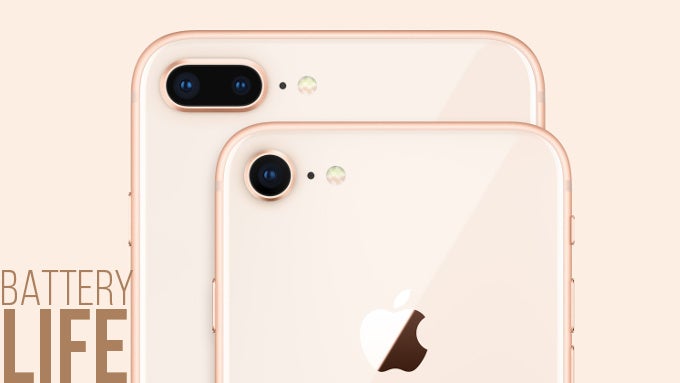 With
more people lining up
to buy the
iPhone 8 Plus
than the smaller
iPhone 8
for the first time (perhaps in anticipation of the
iPhone X
), the focus has suddenly shifted to Apple's larger phone that is more feature-rich, thanks to the dual-camera setup on the back, but also lasting much more on a charge, thanks to the bigger battery. Not only does the iPhone 8 Plus endure 25% further on a charge than the iPhone 8, but our battery benchmark test reveals that it is way ahead of the
iPhone 7 Plus
, too, and, in fact, the 8 Plus is the longest-lasting iPhone we've ever tested.
This is undoubtedly due in part to
Apple's new Bionic chipset
that is not only
extremely powerful
, but also built on the frugal 10nm processor node that sips electrons while performing mundane tasks, but revs up when needed for heavy games or AR calculations, for instance. Given that the screen resolution, RAM amount, and software are the same on the 8 Plus and 7 Plus, the gain in battery endurance can mainly be attributed to the processing power management, moreso having in mind that the 8 Plus also comes with slightly smaller battery capacity than its predecessor.
The iPhone 8 Plus has the best battery life in an Apple handset we've ever tested
How does it compare to Android flagships? Well, the ones that are with QuadHD or QuadHD+ screen resolutions are no match for the 1080p iPhone 8 Plus, as you can see below, with the slight exception called
HTC U11
(seriously, HTC manages to squeeze some record juice out of its 3000mAh pack), and, since there aren't many other "Full HD flagships," save for the Xiaomi Mi 6, the iPhone climbs to the top of the pile. Given how well iOS 11 manages standby draw, you can expect a day and a half to two day battery life with the iPhone 8 Plus, depending on your usage, which can't be said for the vast majority of expensive phones these days.
As to charging times, well, the iPhone 8 Plus has fast and wireless charging standards built in at long last. Fast chargers would top up your 8 Plus 50% in half an hour, but they, and the respective cable, don't ship in the box, so you'd have to splurge some extra dollars to buy the kit from Apple, or go half price, but with
third-party fast charging solutions
. Otherwise you will be stuck with this:
Recommended Stories