Surprise: iPhone 8 Plus sells better than iPhone 8, both see 'stable' demand at carriers
24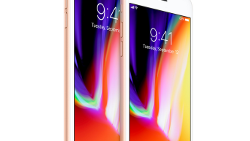 For all the talk of "soft"
iPhone 8
and
8 Plus
demand in anticipation of the
iPhone X
later in the season, or
lack of queues in front of Apple Stores
, the sales seem to be pretty substantial, according to what's probably the most reputed Apple analyst at the moment, KGI Securities's Ming-Chi Kuo. Granted, he says, store sales have been lower than for the same period last year, but those who queue as early adopters are usually waiting on the latest and greatest, and that's the iPhone X.
Carrier sales, however, have been pretty "stable," he calls them, and opening weekend shipments have been 50% of last year's volume, which apparently is in line with the analyst's expectation given that there is a third major iPhone on the horizon. Actually, Ming-Chi Kuo expects the total iPhone X sales to equal the combined iPhone 8 and 8 Plus shipments, which, at
50 million projected units for the "all-screen" iPhone
, again means a pretty heavy business for Apple in the next year or so.
As for the current state of affairs, folks are surprisingly flocking more to the Plus version, compared to last year, and the iPhone 8 and 8 Plus sales have been almost equal, judging from carrier and other sales channel probes. Needless to say, the iPhone 8 Plus is currently the only one you can use the much-touted Portrait Lighting trickery, at least until the iPhone X comes around, so there might be something to that end.