Oukitel K6000 uses a safer li-polymer battery that doesn't go boom (VIDEO)
8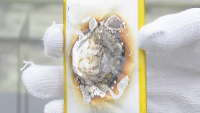 We've seen Chinese smartphone manufacturer Oukitel do some nasty stuff to its phones. Last month, we watched as
the Oukitel K4000 was literally drilled
, leaving a hole in the middle of the phone. And while the screen obviously didn't work, the device was still able to read a handwritten input that started the music player. We also watched as Oukitel used that same model to knock in a number of nails, using the phone's screen.
Now that the company has unveiled the Oukitel K6000 with its massive 6000mAh battery, what kind of crazy stunt will the manufacturer pull now? How about testing the safety of the li-polymer battery inside the unit, by trying to blow it up? Now that sounds like something Oukitel would do.
For the test, Oukitel took the li-polymer cell from the K6000, and along with a regular li-ion battery used in most smartphones, placed them one at a time on a tray baking at 1000 degrees. The li-polymer battery lasted 27 seconds in the heat before it was destroyed. Still, there was no explosion. The li-ion battery exploded in 13 seconds. You can see the results for yourself by clicking on the video, below.
The Oukitel K6000 not only includes the huge 6000mAh li-polymer battery, the phone comes with a 9V/2A charger out of the box for flash charging. Five minutes in an outlet will give the phone 2 hours of 2G talk time; with reverse charging you can use the battery to power up other devices.
source: Oukitel