Ortustech crams full HD resolution into a 4.8" LCD display
2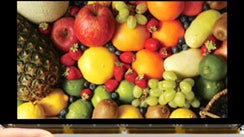 Ortustech is a display company, set as a joint venture between Casio and the Japanese Toppan Printing. It has pioneered a technology called HAST (Hyper Amorphous Silicon TFT), which uses fancy advancements such as "low-resistance fine wiring technology" to come up with 30% larger aperture ratio than regular screens. The result is mobile displays that can reach incredible resolutions with either 30% less power consumption, or 30% more brightness in the sun. Sorry, you can't have both.
The commercial names of display technologies that are using the HAST process, are Buenaview and Blanview. Buenaview improves the contrast of conventional LCDs to 1000:1, and more (the iPhone 4 has 800:1 ratio). It also enhances the color gamut representation to around 70% of the spectrum, and improves on the wide angle visibility. Blanview is a result of the high-transmittance panel, coupled to some tricky reflective optical technologies that use ambient light, which ends up in increased brightness under direct sunlight with about 30%, compared to a typical LCD screen.
Although anything above 3" size in the smartphone section of Ortustech's website is listed as "currently under development", a nice example of things to come is a 4.8" LCD with the astonishing 458ppi pixel density. That transfers to 1280x1920 pixels of full HD resolution. The Retina Display of the iPhone 4 has a resolution of 640x960.
Of course, when will these screens enter a commercial device is anyone's guess, but Ortustech is also working on putting the HAST technology into OLED displays. That, dear friends, is something definitely worth waiting for - ultra high-res OLED screens that are 30% brighter than what we have now would make anyone drool, especially if they can be made on the cheap.
More on the existing technologies for mobile displays can be read in our
AMOLED vs LCD
article.
source:
Ortustech
via
PCMag