Original U.S. voice of Siri goes public
24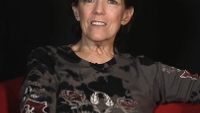 It is a voice that is just as famous as the devices you hear it on. Ever since the introduction of the
Apple iPhone 4s
on October 4th, 2011, we all know the sound of Siri. On Friday morning, Susan Bennett of Atlanta stepped forward to claim that she is the original U.S. voice of Apple's virtual personal assistant. Bennett is a voiceover artist who had no idea that the work that she was doing for a company called ScanSoft (now Nuance) would end up in one of the most popular consumer products of all time. Her voice can also be heard on commercials, GPS systems and at Delta's airline terminals across the country.
During July 2005, her voice was recorded for four hours a day in a studio located in Bennett's home. She would repeat nonsensical words and phrases that were played around with by changing the pitch and speed of her voice while certain letters could be pulled from her recordings. And once the Apple iPhone 4s was launched, those who know Bennett instantly knew that she was Siri.
CNN went to Ed Primeau, a member of the American Board of Recorded Evidence and he went through four hours of studying Siri's voice along with Bennett's. At first, using only Bennett's voice, he was 70% certain that she was Siri. But after she provided him with Siri-esque phrases, he came to the conclusion that he was 100% certain that she is the voice of Siri in the states. "
I believe, and I've lived this for 30 years, no two voices are the same
," said Primeau."
They are identical -- a 100% match
."
Siri's voices in other countries like the U.K. and Australia have already come forward. Now, those in the U.S. finally have a name to go along with the voice that many have come to rely on for information. Why come out now? iOS 7 offers users new vocal choices for Siri (including a male option) which made this a perfect time for Bennett to step out from behind the iconic voice. Yet, the voiceover artist didn't seek out the press. A CNN reporter doing a story on Atlanta's Hartsfield-Jackson Atlanta International, the world's busiest airport, and was interviewing the voices heard in the terminals. Talking to Bennett, she discovered that the voice of Delta was involved in interactive voice response. The reporter blurted out, "Are you Siri?" which led to an audible gasp on the other end of the line. The secret was out.
source:
CNN