Original (2013) Motorola Moto X should get Android 5.1 Lollipop "in a few weeks"
10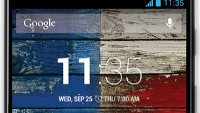 It looks like Motorola is finally getting ready to update the first-generation
Motorola Moto X
to Android 5.1 Lollipop. According to Motorola's David Schuster, the manufacturer has recently started testing the Android 5.1 Lollipop update in both the US and Latin America. If everything runs well, Schuster said that Motorola will "start full deployments in a few weeks".
At the moment, it's unclear if this rough time frame applies just for the unlocked version of the 2013 Motorola Moto X, or if carrier-branded versions will get the 5.1 Lollipop at about the same time.
The original Motorola Moto X was launched back in 2013 with Android 4.2 Jelly Bean on board, but was since updated all the way up to Android 4.4 KitKat. Motorola previously announced that the first-generation Motorola Moto X will be updated straight to Android 5.1 Lollipop, skipping past the 5.0 version of the OS.
At the surface, the most notable changes that Android 5.1 Lollipop brings to the 2013 Moto X include a new Material Design user interface, a new multitasking screen, as well as lockscreen notifications. Under the hood, the update will come with the new 64-bit ART compiler, a new Battery Saving mode, as well as a range of performance improvements and bug fixes. For a full changelist, check out
this previous article
.