Oppo officially confirms the Find 7 will have 1080p and QHD versions
21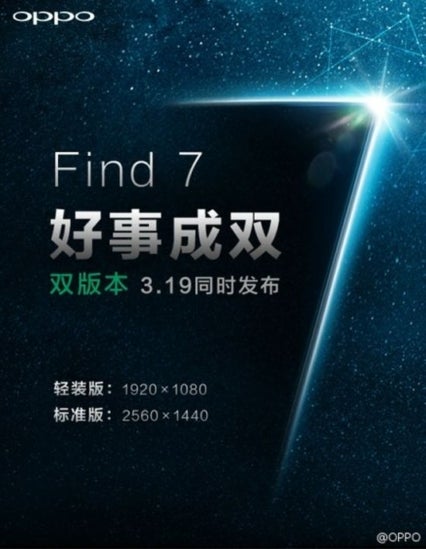 What has been one of the
oldest andwildest rumors
surrounding Oppo's next flagship is now an officialmatter of fact. The Chinese manufacturer confirmed that the Oppo Find7 will be sold in two variants, one with a 1080p display and anotherwith a QHD 2560x1440 display.
Prices and other technicalcharacteristics are not yet available, but rumors point to the QHDvariant running on a Snapdragon 801 SoC, and the 1080p versionsporting the still very capable Snapdragon 800 chipset.
Today we also learned that the OppoFind 7 might introduce a mind-blowing 50MP camera. As a whole, Oppo'snext flagship is shaping up to be a very exciting smartphone andwe're looking forward to more clues about it in the days leading toits March 19 reveal.
via UnwiredView