Oppo launches smartphone with the option to run stock Android
27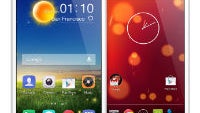 One of the top requests from Android power-users is for manufacturers to give the option to turn off any custom skin that has been put on the Android software and run pure stock Android. That's why the recent Google Edition devices have been so positively received: you can get the hardware you want, without the software you don't.
Well, it looks like Oppo has been listening as well, because the company just announced the launch of a new smartphone that gives you the option to run pure stock Android. The device is the Oppo R819, and while the choice of reverting to stock may impress power-users, the specs on the device won't. The Oppo R819 has a 4.7-inch 720p IPS display, a MediaTek quad-core 1.2GHz chipset, 1 GB of RAM, 16GB of storage, an 8MP Sony Exmor BSI rear camera, a 2MP front camera, a 2000mAh battery, and oddly, Android 4.2.1, rather than the usual 4.2 bump of 4.2.2.
The Oppo R819 will be pretty thin and extremely light at 7.3mm and 110g, which makes it a bit thicker, yet still lighter than the
thinnest device
we've seen. The device will offer gesture controls for waking, answering, and silencing your device. And, it will give you the choice of the shipping ROM, Oppo's "Color ROM", or a stock Android ROM.
The Oppo R819 may not officially come to the U.S., but it is planned for an early September release, and it is already popping up on some European sites for €269 ($359).