Oppo announces 5-inch Oppo N1 Mini smartphone with 13MP rotary camera
27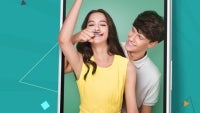 Right on time, Oppo announced the Oppo N1 Mini smartphone. Believe it or not, this "mini" phone comes with a 5-inch display, and its existence is mostly justified by the 5.9-inch Oppo N1 being one humongous smartphone! Just to get an idea about its largeness, fire up our
Size Comparison tool
and put the Oppo N1 against the LG G Pro 2, which is another 5.9-inch phablet, and you'll understand what we're talking about.
So, how does the Oppo N1 Mini measure up to its big, bulky brother? While the latter measures 6.72 x 3.25 x 0.35 inches (170.7 x 82.6 x 9 mm), the former is a more sane 5.84 x 2.84 x 0.35 inches (148.4 x 72.2 x 9.2 mm) at a weight of 150 grams. Still, the phone is even taller and slightly wider than the HTC One M8, for example, but this is due to the rotating camera - a highlight of Oppo's N-series.
Specs-wise, the Oppo N1 Mini goes for a 720p display (down from 1080p), a battery capacity of 2140mAh (down from 3610mAh), and what is probably an eight-core MediaTek CPU with 1GB of RAM. The exact specs are a mistery for now, but Oppo will probably speak more about it on the N1 Mini's official announcement event. What's for certain is that the phone retains the 13-megapixel rotating camera, which makes it the best selfie-capable camera that's currently available.
The phone's launch event is scheduled for June 10, while shipments should start the following day in limited regions.