Huawei's biggest Chinese rival is going to fine smartphone leakers $75,000
5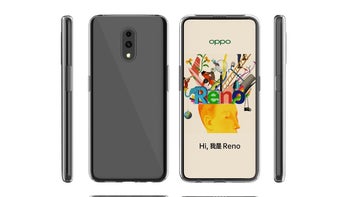 Leaked Oppo Reno case render
Smartphone brands with relatively small marketing budgets often use controlled leaks as a way of generating hype and interest in their products. Much bigger brands, on the other hand, treat leaks very seriously – Apple famously
raided a journalist's house
back in 2010 due to an iPhone 4 leak – and it now seems as though Oppo is
following suit
.
Huawei's biggest Chinese rival is currently gearing up for the launch of its unique next-gen flagship, the Oppo Reno. The company has publicly teased the phone's impressive 93.1% screen-to-body ratio and its triple-camera setup, but for the most part, the brand has remained pretty quiet on the matter in the hope of surprising consumers.
Recently, though, the smartphone's entire design leaked out alongside some key specs, and now Oppo has sent out an internal memo to employees stating that it will be fining people responsible for the leaks RMB 500,000, which is equivalent to around $75,000 each.
In addition to this, the brand has revealed that it may pursue legal action against dealers and some store executives who have also shared information about the Oppo Reno ahead of its announcements.
The Oppo Reno, for those of you that don't know, is expected to sport Qualcomm's Snapdragon 855 paired with 8GB of RAM and a considerable 256GB of internal storage. Camera details are yet to be leaked in full, but the device should support Oppo's new 10x zoom technology. Elsewhere, consumers can expect Android 9 Pie paired with the ColorOS overlay, a 4065mAh battery, and a unique pop-out camera up front which houses the selfie snapper.