Opera Mini browser saves its users $2.2 billion a month in data charges, claims Opera
1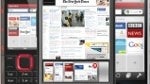 Opera Mini has over 70 million users, who have viewed 36.9 billion pages in September alone. The data compression that Opera does on its servers before it beams the zeros and the ones to your handset, shrinks the size of the websites you browse up to 90 percent.
Thus, instead of 4.9 petabytes of data, Opera Mini users have gobbled up just 535 million MB of their carriers' data traffic, resulting in huge savings worldwide, especially if you are on a pay-as-you-go plan. The biggest beneficiaries are cell phone subscribers in the US, who potentially save $141 per month in data charges, and those in Nigeria, who take home $44 on average, thanks to Opera Mini's website compression. Of course, that only goes for general web browsing, as Opera Mini doesn't support streaming video, which is a huge bandwidth hog, but
there is Skyfire
to take care of that.
In the EU, Opera Mini is installed mostly on Nokia handsets, followed by Sony Ericsson, Apple and RIM. Keeping mobile Internet access costs low has been a philosophy behind Opera's mobile offerings, that is why the company has gone the extra mile to ensure Opera Mini is a cross-platform endeavor.
source:
Opera