Oops! Sprint's mobile site confuses an LG phone for the Samsung GALAXY Nexus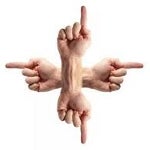 We can imagine that the average guy on the street might find it
hard to remember which phone is which
. Sometimes the difference between a couple of handsets is a matter of degrees. But a carrier might not have the same "Get out of jail free" card to play. After all, if a mobile operator is going to be selling a specific device, especially a high-end model, there is really no excuse for the mistake.
We wonder then, if Sprint has the same layers of protection for its mobile site that ESPN mobile had a few months ago. You might have heard about the now fired rogue editor for the sports site, whom insulted hundreds of millions of Chinese in a misguided headline about Knicks guard Jeremy Lin.
2.3
installed while every stock photograph of the Samsung GALAXY Nexus shows off the Ice Cream Sandwich UI. The good news is that
Sprint's desktop site had the correct picture all along
, and Sprint has already made the correction.
As we mentioned earlier today, you
can now pre-order the Sprint variant of the Samsung GALAXY Nexus
with the
launch now expected for April 22nd
. The price is $199.99 with your signature on the dotted line of a two-year pact.
source:
SprintMobile
via
Phandroid