OnePlus snags high-profile product placements in the new season of House of Cards
8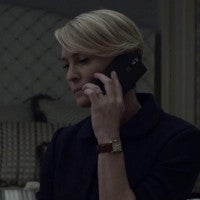 By now, even irregular readers will be well aware that there's such a thing as a Chinese smartphone industry. And not just in the sense that workers at manufacturing plants in China produce the iPhone in your pocket, but actual local players that are constantly vying for buyers' attention—both at home and abroad.
Bust mostly at home. Which is also why we generally don't pay much mind to the latest and greatest to come out of China, at least not in the way we do when Samsung, LG, or Apple releases a new device. There is, of course, the rare exception, and OnePlus is just that. Indeed, despite being headquartered in China, OnePlus is, by any understanding, a global smartphone company. They make their devices available to purchase in the US, Canada, and most of Europe, and offer local support—even if spotty at times. Thankfully, it's pretty obvious at this point that OnePlus will continue to focus on the Western world.
Obvious, as the latest season of the House of Cards political TV drama proves. More specifically, in the latest Season 4 of the series, various characters are being seen parading the OnePlus 2 and OnePlus X, or even the OnePlus One at times. While a quick Google search reveals that other discerning viewers have picked up on this before we ourselves got to binge watch the show, it's true that we noticed on our own. Still, having validation (and cold hard proof in the shape of screenshots) was welcome news and spared us the expected digging for proof.
According to
gbtimes
, OnePlus' head of China operations has confirmed to unnamed individuals that the deal cost the company the equivalent of about $300,000, which sounds about what you'd expect to be featured in one of the most successful TV series on air right now. The Netflix show (an obligatory watch for geopolitics pundits) doesn't shy from endorsing products, and so various Samsung, Apple, and BlackBerry products are visible throughout the seasons.