OnePlus 5 is now official: powerhouse with dual camera, Portrait mode and... copycat design
44
Drag the slider to see the OnePlus 5 front and back sides
The new
iPhone 7 Plus
OnePlus 5
is now finally official.
And the most striking thing about it is certainly the eery similarity to the iPhone 7 Plus: it's basically a clone of Apple's design, featuring what looks like the same dual camera system with the same portrait mode secondary lens in tow, the same black color, the same aluminum build and even the same crescent antenna lines. While companies originating in China have been copying Apple's designs for years on end, in recent years we have seen most of them introduce their original designs. This is why it's particularly shocking to see a high-profile handset like the OnePlus 5 reverse back to those old ways.
For all else, the OnePlus 5 is a top-end Android phone for a price much lower than that of other flagships. It's got the Snapdragon 835 system chip, the most powerful on Android currently, an 8GB RAM option, the most we've seen in a phone ever, improved camera with portrait mode, and plentiful storage.
In the context of OnePlus phones, though, it's also the most expensive one so far, with a starting price $40 higher than that of the OnePlus 3T. And then, the OnePlus 3T starting price was $40 higher than that of the OnePlus 3.
First things first, though, so let's first start with a look at the
OnePlus 5 specs
highlights:
OnePlus
5
Platform
Android 7.1.1 Nougat
with OxygenOS
Display
5.5" AMOLED 16:9 display
1080 x 1920 pixel Full HD
+ supports sRGB, DCI-P3 colors
Dimensions
Weight
74.1 x 154.2 x 7.25mm
153 grams (5.4 oz)
SoC
RAM
Snapdragon 835 (10nm) up to 2.45GHz
6GB / 8GB LPDDR4X RAM
Cameras
Main: 16MP Sony IMX 398 with f/1.7 lens
+ EIS, 1.12μm pixels
Telephoto: 20MP Sony IMX 350 with f/2.6 lens
Front: 16MP Sony IMX 371 with f/2.0 lens
Storage
64GB / 128GB UFS 2.1
- no microSD card slot
Battery
3,300 mAh
with USB-C 2.0 and Dash Charge
Special features
Gorilla Glass 5
Dual Nano SIM slot
2 x 2 MIMO antennas, 34 network bands, Improved mic range
New Dual Camera system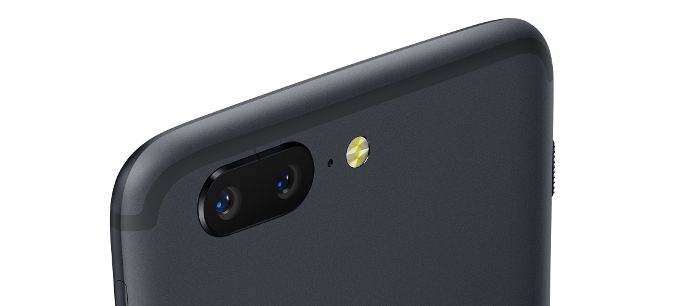 A secondary telephoto lens with portrait mode
The OnePlus 5's most notable new feature is the dual camera. It's the phone's tagline, its bread and butter, and the one component that's evolved the most. OnePlus engineers themselves admit the OnePlus 3 and 3T cameras were good, but not quite great, while the OnePlus 5 is the one to get the truly 'great' camera.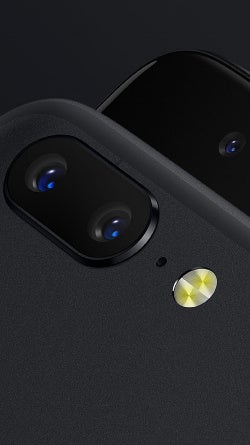 The setup is just like the one on the iPhone 7 Plus: a main, wide-angle lens and a secondary 'telephoto' lens used to blur the background to have that 'bokeh' effect. The main cam uses a 16-megapixel main Sony sensor with an f/1.7 aperture lens, and the telephoto one features a 20-megapixel Sony sensor with an f/2.6 lens. OnePlus says that this is
"the highest resolution dual-camera system on a smartphone today."
It's not just about the resolution, though: the new Portrait mode is possible thanks to a new software algorithm that ensures the subject is properly defined and well-lit.
Even if you use the wide-anlge camera, its f/1.7 aperture allows the camera to capture 34% more light than the OnePlus 3T for a big improvement in low-light scenarios. OnePlus has also improved auto focusing speeds, and the new OP5 focuses up to 40% faster than its predecessor.
You also have a manual 'Pro Mode', where you get to shoot in RAW and control ISO, white balance, shutter speed, focus and exposure. A neat histogram is displayed live on the screen and you can even save two profiles to quickly recall when shooting in this mode.
Smaller battery size, better battery life
The other big thing about the OnePlus 5 is that it's a performance monster. It's got the Snapdragon 835 that we've seen on the Samsung Galaxy S8, and it comes in two options: a 64 gig one with 6GB of RAM, or a 128GB storage model with 8GB of RAM.
20% better battery life than OnePlus 3T
All of this is complemented by a 3,300 mAh battery, a slightly smaller size than the 3,400 mAh cell used on the 3T, but thanks to the more efficient processor and other optimizations, the OnePlus 5 comes away with a 20% better battery life than the OnePlus 3T. This is great news as the OnePlus 3T was a solid battery performer, easily getting us through a full day with screen on time of slightly more than 6 hours.
Additionally, the OnePlus 5 uses UFS 2.1 type of storage with faster 2-lane bandwidth, which brings improvements all around the experience. The phone also learns which apps you use most frequently and has them ready as soon as you unlock your phone, while less often used apps get lower priorities.
Oxygen OS on top of Android 7.1.1 Nougat
OnePlus's custom software, Oxygen OS, has gotten a few welcome improvements in the OP5. First of all, it runs on top of Android 7.1.1 Nougat, and then it supports new features like a reading mode that filters out blue light, expanded screenshots, a translucent, slide-up app drawer, auto night mode, off-screen gestures that allow you to draw letters to quickly launch apps, as well as a gaming do not disturb mode and secure box.
Another small thing that's gotten better is a 20% quieter vibration motor that you can customize with three intensity options, and 5 incoming call patterns.
Connectivity improvements
There are a bunch of less flashy, but nonetheless important improvements in the OnePlus 5: faster 4G LTE, faster Wi-Fi, Bluetooth 5.0, Dual SIM support and a carrier unlock by default.
The expanded 4G LTE bands are hugely important for OnePlus 5's global ambitions: the phone now supports 4G LTE bands for all major international and U.S. carriers, Verizon Wireless, AT&T, T-Mobile and Sprint included, but this does not mean you can actually use the OnePlus 5 on Verizon or Spint because of the CDMA tech they use.
There is still no microSD card slot, though, and this is something that power users should keep in mind.
Price, release date and availability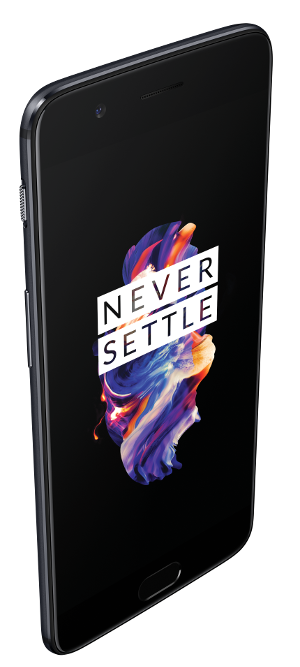 The OnePlus 5 release date is set for next Tuesday, June 27th in North America and Europe. The phone will also be available in Asian markets like China, India and Hong Kong at a different time.
The interesting thing is that with every new phone, OnePlus keeps on increasing the price. The OnePlus 3 started at $400, the 3T -- at $440, and the OnePlus 5 goes $40 higher to a base price of $480 for the 64GB storage / 6GB RAM model, and $540 for the 128GB storage / 8GB RAM version. Prices in Europe are even higher at €500 for the base model and €560 for the souped up version.
The OnePlus 5 is still great value for the money: it's cheaper than the $725 Samsung's Galaxy S8 or the $650 Apple iPhone 7 or Google Pixel, but it's nowhere nearly as affordable as the phone OnePlus launched a year ago.
Things have changed in that time. From an underdog, OnePlus has become a recognizable brand and one many phone geeks prefer. The OnePlus 5 is clearly its best phone, one that keeps evolving a successful formula.
OnePlus promised to 'never settle' and for the most part it still does not. If only it wasn't for
that
design...