OnePlus 5 battery life test results are out: very solid performance, but not quite a 2-day affair
20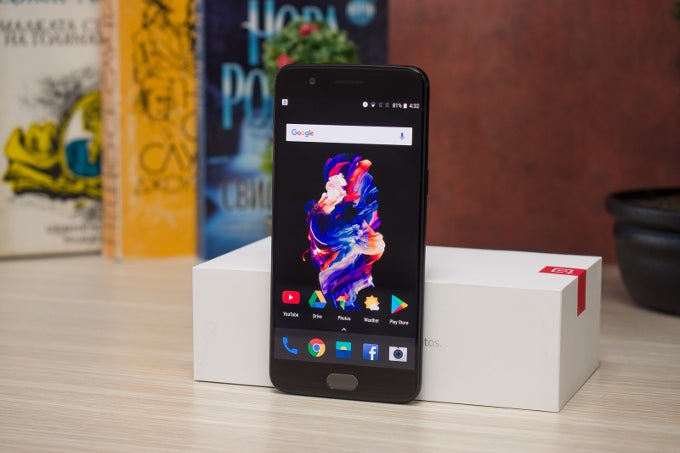 The
OnePlus 5
is as controversial of a phone as they get: an iPhone-inspired look and a dual camera with Portrait mode just like the one on the 7 Plus, but also a clean and mean Android interface with one of the fastest processors around. Sprinkle a bit of
jelly scrolling effect issues for color
, and a ton of hype, and you start to get a more complete picture.
But no smartphone portrait is ever full without a look at battery life.
The
OnePlus 5
features a 3,300mAh battery running the show, a bit smaller than the 3,400mAh cell on the
OnePlus 3T
. At the same time, though, the new phone also makes use of a newer, Snapdragon 835 system chip that wastes less energy and holds huge promise for battery longevity. There is also no extra battery strain from the display: it runs on a Full HD, not Quad HD resolution. The difference is hardly even noticeably to the naked eye, so we don't mind.
Good news is that all of this together combines beautifully. The OnePlus 5 scores very solidly on our custom battery test. We run a standardized test on all devices: running a script that mimics typical phone use and then have the brightness of all screens set at 200 nits, a level comfortable for indoor use.
The OnePlus 5 scored one of the best results of any flagships: 9 hours and 18 minutes trumps devices like the Samsung
Galaxy S8+
, Apple
iPhone 7 Plus
, Google Pixel XL, LG G6, and pretty much every modern flagship.
In real life, though, where we do look at stand-by and try varying use, we found that the phone is not quite a two-day affair. And that's okay: it's still a high mark that no other major flagship meets. We were able, though, to have the phone get us through the busiest of days, kicking off at 8am and taking it back for a recharge at 11pm after a night out.
The other aspect of a battery we look at is charging speeds. The OnePlus 5 features the proprietary 'Dash Charge' technology that lets you top up your phone quickly even while you are using it, something impossible on other quick charge phones like the Galaxy S8.
The OnePlus 5 did well, but was not as speedy as earlier OnePlus phones.
Still, though, the battery life of the OnePlus 5 is above average by all means. And that's one less hurdle on its way towards fighting the Samsung and iPhones of the world. After all, that's what OnePlus is gunning for.