OnePlus 3 getting a slight price hike in the UK after Brexit tumbles British pound
5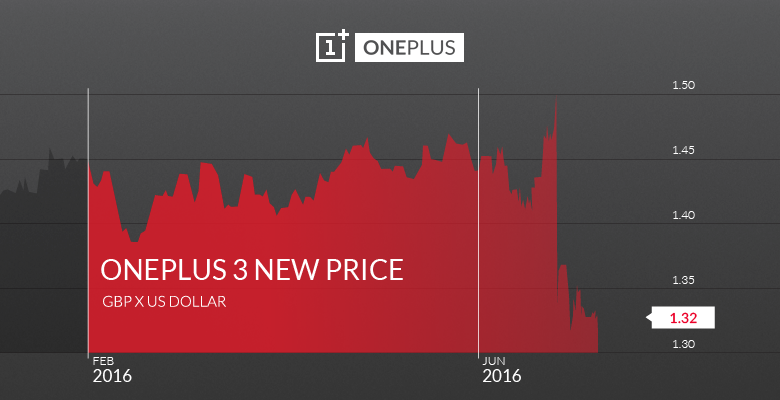 Starting next week, the OnePlus 3 will cost slightly more in the United Kingdom: the price will go up from the current £309 to £329, a £20 increase that is enforced because of the sharp decline in the value of the British pound after the Brexit.
"Given the effects of the unstable markets on our extremely thin margins, we're reluctantly going to have make some small changes to our pricing structure for the device. In practical terms for our customers, this means that from July 11, 2016 (that's next Monday), the OnePlus 3 will be £329 in the UK," OnePlus manager David S wrote in an official post on the OnePlus forums.
OnePlus has given its UK customers a heads-up a few days prior to this announcement, and there is still almost a week in which the customers who want to get their OnePlus 3 as soon as possible would still be able to place orders at the lower price.
A slight increase in the OnePlus 3 price is necessary because of the decline of the British pound
The company says that this price hike only affects its OnePlus 3 and none of the accessories or other devices it sells in the United Kingdom.




An interesting tid bit that OnePlus shares in this post is about demand. OnePlus mentions "significant demand" for the device currently and that's great news for its latest flagship. You can take a look at our detailed OnePlus 3 review to learn more about it, but also don't forget that a lot of the current issues (poor color calibration and RAM management issues) are allegedly fixed in an update that has started rolling out and will come to OnePlus 3 users within the next few days.