One Apple iPhone 4S gets stolen twice in the same day
39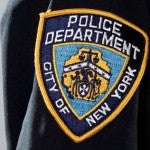 Strong arm theft of the Apple iPhone and Apple iPad has become so popular, especially in New York, that a new name has been coined for the act,
"Apple picking"
. And if it weren't for "Apple picking," crime in the Big Apple would have been down for 2012. In fact, last year in New York there were 16,000 reported incidents of "Apple picking," which accounted for 16% of all crimes committed. Recently in Brooklyn, the theft of an
Apple iPhone 4S
led to the kind of story that cops talk about for years with other cops and family.
thug's pink sneakers
filling her head. She managed to flag down a cop who took her cruising the park for the thief, but it was to no avail.
Meanwhile, let's turn our attention to the thief, the boy who won the tug of war and stole the Apple iPhone 4S. His intent was to convert it to cash quickly, so he heads to Flatbush and Bedford Avenue where he encounters a possible buyer. But before the buyer lays out his hard earned cash for the device, he needs to take a closer look to make sure the phone is, in fact, working. So the potential buyer gets his hands on the phone and takes off. For the second time in one afternoon, this particular handset is stolen. But the story gets better.
The original thief, now out his stolen property, flags down one of New York's finest and acting like a victim, convinces the cop that he just had his Apple iPhone 4S lifted. Luckily, the second thief was either slow, stupid, or both and was quickly apprehended. Everyone got a ride to the 70th precinct, or as they say on New York based cop shows on television, the seven-oh.
The 16 year old girl received her Apple iPhone 4S back and as of last Thursday, there have been no further incidents since the robbery. We're not sure Apple would use it, but how about this for a tag line on the next television spot. "The Apple iPhone, the smartphone in so much demand that the same one was stolen twice in one day." As New York Post columnist Cindy Adams would say, "Only in New York".
source:
NewYorkTimes