On the 27th anniversary of Windows, a video details the Win 8 interface design as far back as 2010
5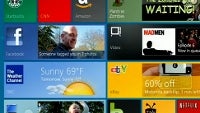 Jensen Harris, the Director of Program Management for the Windows User Experience Team, had a presentation back in the summer during the UX Week 2012 expo, during which he showed Windows 8 concept interface designs from as far back as 2010, the year when Windows Phone got its Modern UI looks.
Now the video of the presentation was uploaded online, on the eve of Windows' 27th anniversary yesterday, and the tiled design, developed early 2010, actually looks much like what we have now in the final version of Windows 8.
The similarity hints at the common interface design language being a much more complex affair for Redmond, that has been developed from the onset with the idea to unite all gadgets with Microsoft OS on them, and prep them for the touchscreen era that is upon us. The Jensen Harris presentation video is posted at the end of the slideshow below, and is worth watching in its longish entirety.