On eve of being proved right, Shaw Wu calls Verizon iPhone a "major test" for Android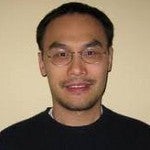 Kaufman analyst Shaw Wu gained a reputation amongst cell phone fanatics for his early and often forecasts that a Verizon branded Apple iPhone was coming. Now, on the eve of what is widely expected to be a press conference to announce the Verizon branded iPhone, some might say that even a broken clock is right twice a day, or some might congratulate the analyst for sticking to his guns.
Now that it would appear that the iPhone's addition to the Verizon lineup is a fait accompli, it might be important to hear what soapbox Wu is standing on now. Today, the analyst called the Verizon iPhone the "first true test" for Android. One must travel back to 2007 to understand why. After the Apple iPhone became a world wide phenomenon after its launch, Verizon customers wanted an iPhone-type device of their own. While AT&T had an exclusive on Apple's device Big Red offered its customers the LG Voyager which did offer some of the things that the original iPhone lacked like 3G connectivity, stereo Bluetooth and MMS. While it did offer a (rather sluggish) HTML browser and touchscreen, the feature phone was no "iPhone killer" and Verizon customers next had the LG Dare as their Apple substitute.
The first smartphone that Verizon put up against the Apple iPhone was the BlackBerry Storm. Big Red's customers were so hopeful of having a device that could compete with Apple's handset, that the Storm sold well despite a product that was half-baked at launch. Finally, it was the Motorola DROID, Verizon's first Android phone, that was a device that Verizon customers could proudly put up next to the iPhone and even beat out the latest iteration of Apple's touchscreen phone to be Time Magazine's Gadget of the Year for 2009.
From that point on, Android has had amazing momentum in outselling the Apple iPhone in the last quarter. But now, with a Verizon iPhone about to be real, the question is how well will Android sales stand up at the nation's largest carrier versus the new competition. Wu also adds that there is a chance that the carrier is paying Apple extra to keep the iPhone out of the hands of Sprint and T-Mobile. In the last 2 quarters, Verizon has lost market share to AT&T and could use the expected flurry of new sales and the loss of accounts at AT&T to regain a comfortable lead over the nation's number two carrier. Wu expects Apple to ship 63 million iPhone units in 2011 with Verizon accounting for 8 to 12 million of them.
source:
electronista