Ollie is a new ground-moving drone that you can control with your smartphone. Oh, and it's fast
10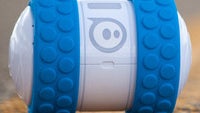 If you'd love to control a ground-moving drone with your smartphone, crash it into stuff and cause trouble, or race your buddies, your options have just grown a bit. We saw
Parrot's Jumping Sumo released
a month or so ago – a mischievous jumping runt that rolls on two wheels and has a mechanism that gives it the ability to jump up to 31.5" (80 cm) in the air, or to just kick stuff around. Now, we also have Sphero's Ollie.
Ollie is a cute little fellow that looks sort of like a jumbo-sized pill with wheels on each side. It is controlled via a dedicated app and can move at up to 14 MPH, which is an impressive feat for a smarphone-controlled drone. Furthermore, Ollie can last for 60 minutes on a single charge, claims Sphero, its maker. It connects to your smart device via Bluetooth LE and should be active at a range of up to 98.5 feet (30 m).
The drone has removable rubber tires (dubbed Nubby Tires) that can be used for better traction, or removed for better drifting. The center of Ollie's body houses LED lights that can glow in a large variety of colors. The Nubby Tires come in a choice of colors, as well, allowing users to customize the appearance of their Ollie.
The app allows users to control which direction Ollie goes in, of course, but also has a few one-touch-stunt controls that can have the little drone jumping, spinning, and flipping. It is currently available in both the Play Store and the App Store. Seeing as there is a remote control app in the Windows Phone store for the company's previous drone product – Sphero – we believe it is safe to assume that Ollie will also receive a WP app of its own at some point in the future.
The drone can be pre-ordered now for $99.99 and Sphero says shipping will start on the 15th of September. There is also a pitch-black limited Ollie model, which costs $149.99 and will start shipping on the 1st of November.
Any drone lovers out there? Speak the truth, would you get this just so you could drive your dog insane?
Download the Ollie app: (
Android
|
iOS
)
source:
Sphero
via
Digital Trends