Old school streaming: AT&T reportedly wants working FM chips in all Android smartphones
24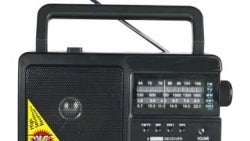 With so many music streaming services now trying to emulate old school radio channels, one might be tempted to think that FM radios are still one of the most basic features of any smartphone. However, although most modern smartphones have the hardware that's required of them in order to access FM radio channels, you'll be hard pressed to find a smartphone that actually comes with a working FM radio.
If you're thinking that this is the wrong way to go looking forward, you'll be glad to know that AT&T allegedly feels the same way. If a new report from RadioWorld is to be believed, AT&T wants smartphone makers to include a working FM radio in their handsets. Since this is an unconfirmed rumor, make sure to digest it with the proverbial grain of salt.
According to the report, all smartphone makers who want to sell their phones through AT&T will have to include a working FM radio starting with 2016. Furthermore, since many current-generation handsets have the required hardware, AT&T is also said to be urging smartphone makers to turn on FM radio functionality in existing handsets through software updates.
At the moment, it's unclear what prompted AT&T to force FM radio compatibility on smartphone makers. One of the most obvious reasons would be an attempt to reduce the amount of data that subscribers use up for streaming audio. Another possible explanation would be that FM radio channels are also much more reliable during emergency situations compared to digital streaming. We'll keep our eyes and ears open and we'll let you know as soon as we hear more details on AT&T's push for working FM radios on modern smartphones.