Offline music playback to become a reality on Rhapsody for the iPhone?
This article contains unofficial information.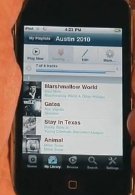 For those who own an iPhone and subscribe to Rhapsody, the online music streaming service, users may soon see themselves enjoying their favorite tunes in almost any given conditions – even when your network connection gets cut out. The company is looking like they're in the process of fine tuning the updated app for the iPhone which essentially allows music to be stored locally on the iPhone – all the while allowing users constant playback without the worry of it stopping suddenly due to coverage connections. Not only will subscribers be able to listen to music offline, but it'll inadvertently provide iPhone owners more battery life seeing it's not constantly pulling data through the network. It ultimately will make the $15 per month subscription a bit more attractive as users are able to download as much music to their hearts desire as long as they continue to pay for the service. Still it needs to pass through Apple for approval before it becomes official, but users can really bet seeing this come into the light hopefully soon.
Apple iPhone 3GS Specifications
|
Review
via
Technologizer