Official accessories for your Nexus 7 include a rotating stand case
2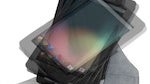 Earlier today, we saw a couple
official covers and an official dock
for the Google Nexus 7, and they looked pretty good, but now we're seeing 5 more official accessories from Asus so you can really dress up your new tablet in style. None of these accessories are available just yet, and we don't have any US pricing, just UK, but even so they all look pretty nice.
The new group of accessories include a few pretty standard items like an official screen protector, a folio case, and a stand case. But, there are also a couple of standouts like the "genuine" Bluetooth keyboard case, which as the name suggests is a case with a built-in Bluetooth keyboard. The odd thing about this listing is that it's the only one that isn't listed as "genuine", and on top of that, the description makes a mistake in saying the keyboard will "automatically connect to your
iPad
". So, that one may not have been originally intended for the Nexus 7.
Our favorite is probably the Rotating Stand Case, which is similar to the stand case, but obviously adds in the fun of being able to rotate your device between landscape and portrait mode. This is especially useful with the Nexus 7, since the homescreen doesn't rotate, and being able to have the tablet in portrait mode is pretty helpful.
Recommended Stories