Official YouTube Kids app arrives with age-appropriate vids, parents sigh with relief
5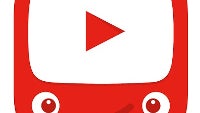 Kids constantly grabbing your phone/tablet, and launching all kind of stuff on YouTube? Every parent in the digital age has clashed with their curious toddler's unique ability to hit the most age-inappropriate vids every time they grab something with a touchscreen lying around, all the while they are, in fact, gunning for their favorite cartoon.
Well, Google heard your pledges, and this week outed the
promised YouTube Kids app
, stuffed to the gills with cartoons and educational programming that sits around YouTube, and filtering out all the nasties. Not only that, but YouTube Kids offers a child-friendly interface, too, with big cartoonish icons, so that the kiddos can easily locate favorite episodes of Sesame Street, Thomas & Friends, and Dreamworks, online hits like Mother Goose Club, TuTiTu, and Super Simple Songs, among others.
For even more filtered experience, parents can easily disable the search function as well, so they are completely sure the offspring will only watch the numbers game, instead of wasting hours on Robocar Poli series they've already watched a hundred times.