Official Nexus 7 Sleeve hits Play Store, but it'll cost you $50 (incl. shipping)
7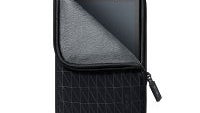 The new Nexus 7 has gotten its first official accessory, and it is possibly one of the least worthwhile accessories that you'll find on the market. If you're one to go for a case/sleeve to protect your device, sure the Nexus 7 Sleeve will likely do a good job in protecting your new tablet, and it is designed well, but it still doesn't seem worth the price tag that you'll be looking at.
The official Nexus 7 Sleeve has a base price of $29.99, which is already pretty steep, but once you add in the shipping it gets completely unreasonable. Google's shipping costs on the Play Store tend to be pretty high, but for the Sleeve, the cheapest option available is Ground Shipping for $17.98. Add in the tax for your state and that could easily bump the total cost over $50 for the Sleeve.
Of course, if you don't mind getting a case that isn't official, there are plenty of options on Amazon for much cheaper.