Obama and Romney both release apps, Romney to announce VP with his
15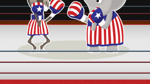 Just in case you live in America and aren't completely sick of the presidential race, both President Obama and the presumptive Republican nominee Willard "Mitt" Romey have released new apps for both iOS and Android, and the apps definitely show two very different aims and interests in the smartphone crowd.
President Obama has been pretty tech friendly ever since the last election, and has been pushing the White House into the information age pretty steadily, starting on the day he was inaugurated when the White House launched its official YouTube page. The president's new app, called
Obama for America
, is pretty full featured and includes options to learn about the president's policies and how they are being enacted, get and share news, find local events to support the campaign, and of course the ever present donate button. Unfortunately, the app is only available for iOS.
On the other side, Mitt Romney's app, called
Mitt's VP
, does just that. It will let you know via push notification when and who Romney chooses for his VP. That's it, but it is available for both iOS and Android. This adds to Romney's other app,
I'm With Mitt
, which had the notorious misspelling of "America", but beyond that, the app didn't do anything other than let you put stickers on images and share them. And Romney's apps obviously collect your data for later use, but the apps do seem a bit thin on content. It would be far more interesting to see an app for Romney that gave a bit more, like updates on his recent international trip or something.
Either way, no matter who you support, there is an app available.
Obama for America
is available for free in the
iTunes App Store
.
Mitt's VP
is also available for free on either
iOS
or
Android
.
Recommended Stories