OUYA puts up pre-orders for a white model shipping in time for Christmas
8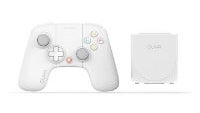 The OUYA Android gaming console got quite a bit of attention when it was a
Kickstarter project
, but since then the news has faded surrounding the device. There are a solid number of games, but the system software itself has been a point of annoyance for many users. So, obviously that means the company needs to change the hardware color in time for Christmas, right?
Well, that's the plan anyway. OUYA has put up pre-orders for a white version of its game console, and if you put in an order before December 8th, it should get to you in time for Christmas. In addition to the new color for the console and accompanying controller, OUYA is also doubling the storage space in the system from 8GB to 16GB, although this special edition will cost you a bit extra.
Rather than the $99 price tag that has been on the OUYA so far, it will cost you $129 to get the white variant with 16GB of storage. The rest of the system is the same, meaning a Tegra 3 processor, 1GB of RAM, one USB 2.0 port, and one micro-USB port, but you will actually get an HDMI cable in the box, which was not the case with our developer version.
If you like the sound of that deal, just head over to the OUYA Store. It is labeled as a "Limited Edition", but there's no word on if that refers to the number of consoles made in white or the length of time it will be on sale.