OS 6.0 gets previewed on the BlackBerry 9670 - which is a flip phone?
This article contains unofficial information.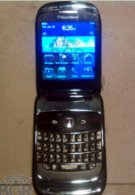 The BlackBerry 9670 came out of nowhere and offered plenty of looks as to what is expected out of RIM's camp down the road. The flip handset is no doubt a departure from the usual portrait QWERTY handsets we've been accustomed to seeing, but it still manages to retain some elements that made RIM's portfolio so successful. In addition, it is also the first phone to be seen running OS 6.0 and will likely carry the load for RIM's future. The BlackBerry 9670 features CDMA connectivity, full QWERTY keyboard, 5-megapixel camera, Wi-Fi, 360 x 480 internal display, huge sized external display, track pad, microUSB port, microSD slot, Bluetooth, and OS 6.0 which is all wrapped in a punctual metallic casing.
Sure the Blackberry Pearl Flip may have taken away some of the luster as being a flip handset, but this is easily categorized as a high-end device which would easily put the Pearl Flip to shame. Just when we were expecting the usual things out of RIM, which is evident with the BlackBerry Bold 9650's imminent release, the 9670 surely takes prominence as it brings forth some interesting changes on the horizon for RIM. Still, there is a chance for things to change with this device as it's not a final product just yet.
source:
BGR
via
Engadget