Nvidia is working on Android 6.0 Marshmallow update for the Shield Tablet and Shield Tablet K1
5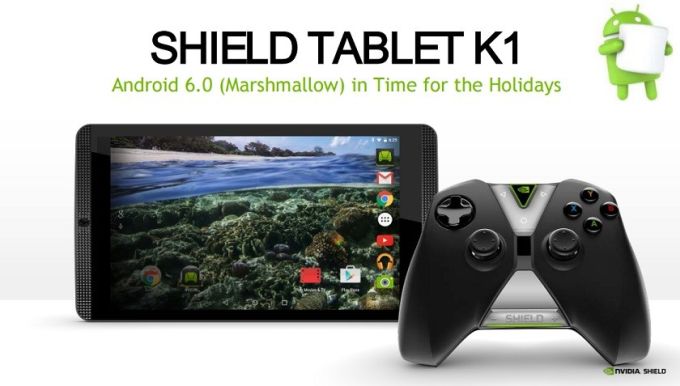 Earlier today, Nvidia announced the
Shield Tablet K1
, a slightly trimmed out version of the original
Shield Tablet
that attacks the more affordable price point of $199. Although the hardware specs are fairly decent for the money, it might have come as a disappointment to some that the Shield Tablet K1 will launch with Android 5.1.1 Lollipop, and this despite the fact that Android 6.0 Marshmallow has been the most recent Android version for about a month now.
Fortunately, Nvidia followed up on its earlier announcement and stated that the Shield Tablet K1 will get the Android 6.0 Marshmallow update in time for the holidays. Furthermore, the company also confirmed that it's working on a Marshmallow update for the original Shield tablet, but in the absence of a strict timeframe, the release may slide into early 2016.
If this is the first time you're hearing about the Shield Tablet K1, what you should know is that the new variant is essentially a Shield Tablet without an included stylus, charger, and cable. Nvidia is now obviously focusing on promoting the Shield Tablet K1, which is probably why the new tablet variant will get Android 6.0 Marshmallow first despite the fact that it runs on almost the same hardware as its predecessor.
6.0 Marshmallow is a version of Android with a great potential to improve the overall experience on the Nvidia Shield tablets. For instance, the better microSD integration will be of particular use given that these tablets start out at 16GB of internal storage. Furthermore, Marshmallow's power-saving Doze mode was designed specifically with tablets in mind, and Nvidia Shield Tablet users will probably see their battery life improved considerably. You'll find much more details about the new Android version in our detailed
Android 6.0 Marshmallow review
.
Recommended Stories