Nun Attack hands-on
8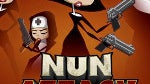 Checking out the video game centric booths over at
PAX East 2013
in Boston, we came upon the one from French developer
Frima Studios
, where they were showing off a few mobile titles. Already a hit since it launched back last November, we finally got a first hands-on look at the title
Nuns Attack
. Not surprisingly, the name says it all!
Available for both Android and iOS right now, Nun Attacks is a
simple swipe and point action title
with these gun totting nuns battling the horde of evil souls unleashed by the Fallen Nun. So yeah, the gameplay is pretty straightforward, as we control up to 4 nuns at a time telling each one where to go in the battlefield – while choosing which demon to attack. Honestly, it's so simplistic that you can start the game and jump right in with barely a learning curve involved in mastering it. Breaking up the point and swiping action, there are
various guns and effects
to pick up along the way, with the latter requiring us to perform specific finger motions to cast the effect.
Visually, the
2D look
of Nun Attack isn't glitzy when compared to some intensive 3D titles out there, but then again, it's pretty much the standard fanfare for mobile games. Therefore, if you're packing something that isn't a hardware powerhouse, it's not going to prevent you from running this title. Of course, some gamers might tire after going through several battles, but in order to get the really wicked guns in the game, you'll need to invest some hearty time with it. Android users will surely appreciate the game's
free
price tag, but for iOS users, just be aware that you'll need to fork over
99 cents
for it. Considering that the game has over
3 million downloads
, it certainly means that it's something worth checking out.