Notion Ink Adam II tablet with interesting dual screen arrangement, specs leak
4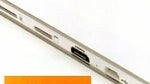 Indian tablet maker Notion Ink has been working on a successor to its
Adam tablet
, released in 2011. Two years is a two lifetimes in the world of electronic devices, and given the specifications of the tablet, this update will be welcomed.
The release date of the Adam II tablet is not known, but a leak with several pieces of information and a supposed price point make for some interesting reading.
First, if the source is correct, the price may come in at only ₹12,000 ($220, £142, €168) which is perfectly reasonable for the hardware specifications that are purported to be part of the new tablet. That price is about half of what a first generation Adam tablet is selling for on Flipkart. The Indian government's Science and Technology department is apparently funding some of the development of the tablet which may explain this price.
Specification-wise, the Adam II shapes up to be a solid mid-range tablet, Android 4.2.2 is handled by an ARM Cortex A9 dual-core 1.5GHz CPU and a 6,000mAh battery keeps the lights on. Wi-Fi and Bluetooth are on board along with 1GB of RAM. There are a pair of cameras, each 2MP. The tablet will also accept a micro SIM for HSPA data.
The screen set-up is quite interesting. The main display is a 10.1-inch 1280x800 panel with a 16:10 ratio. The secondary display is on the edge of the tablet (like the spine of a book or magazine) capable of providing contextual data and notifications. It is a super-twisted nematic display which means it is a monochromatic LCD like can be found on old Nokia feature phones.
source:
AndroidOS