Notification grouping and direct replies to become mandatory in all Android OEM skins
5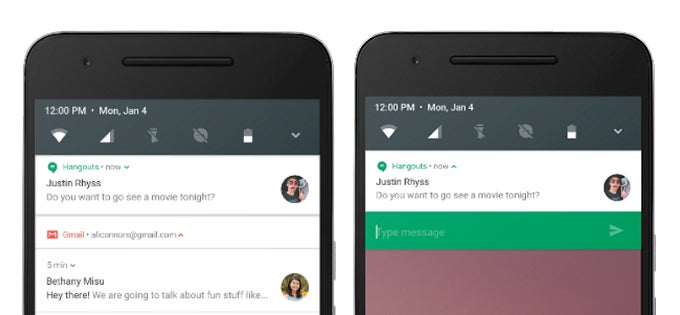 Google's updated Compatibility Definition guidelines state that OEMs won't be able to mess with Android's notification system from now on. This means that, no matter what Android phone you buy in the future — as long as it's running a new version of the OS, of course — it will handle notifications the same way all other Android devices will.
Specifically, this means that notifications will be grouped together in the notification shade and users will have the option to reply directly to messages from their respective notifications, as it is the case in the latest build of Android Nougat.
Some proprietary Android skins, such as Samsung's TouchWiz, have included notification grouping for quite some time now. Now, with the newly updated compatibility guidelines, this will become the norm for all OEMs, like it or not.
Another requirement that OEMs will have to comply with concerns the presence of quick settings toggles in the notification shade – there won't be any messing with them either. Although we're having a hard time thinking of any Android skins that don't feature the toggles there, it is reassuring to know that they won't be going anywhere.