Note 3 vs Note 4 vs Note Edge UI comparison: what changed and what's different?
43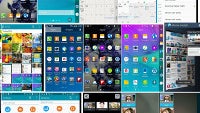 Aesthetics have never been the strong suit of Samsung's TouchWiz UI -- features are. For a very long time, we've been rather displeased with the looks of the custom interface, and we suspect many would agree, especially now that essentially every major manufacturer on the planet has moved towards flatter looks, making older interfaces feel... well, dated.
One of the most popular Samsung smartphones that is a prisoner of its own time is the otherwise amazing Samsung Galaxy Note 3. The UI just looks bland in comparison with what the competition now has to offer, and even when put side-by-side with the newer Galaxy S5. Unfortunately, while the Note 3 has moved onto Android 4.4 KitKat, it does not seem like Samsung is planning on updating the Note 3 with the new visuals. As it turns out however, that's not specific to the Note line, but rather -- the Note 3 itself. Proof for that are the refreshed, more vibrant UIs of the newly-announced Note 4 and Note Edge.
Indeed, while some would argue that the new looks still won't win Samsung an award in interface design, it's undeniable that the layouts on the two successors of the Note 3 are a definite, and much-needed improvement. The important thing to remember here, however, is that the Note 4 and Note Edge
do not
make use of the exactly same UI. Instead, while the Note 4 is largely identical to what you get with the Galaxy S5, Samsung has opted for a special-made version for the Note Edge that goes well with its novel auxiliary screen on the right. Obviously, in many ways the two are still completely identical.
So, how do they compare, and what's changed from before? The answer lies in the slideshow we've prepared for you right below. Take a look!
Left to right: Note 3, Note 4, Note Edge