Not dead yet: BlackBerry to hand out more Developer Alpha devices this summer
16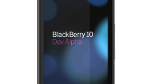 As badly wounded as RIM is,
the Canadian based manufacturer is not dead yet
. RIM's VP of developer relations, Alec Saunders, actually has the confidence to think ahead, telling developers that BlackBerry 10 will help them monetize their ideas. And at every stop of the BB10 Jam tour, RIM made sure it had some quantities of the BlackBerry 10 Dev Alpha handset to pass out.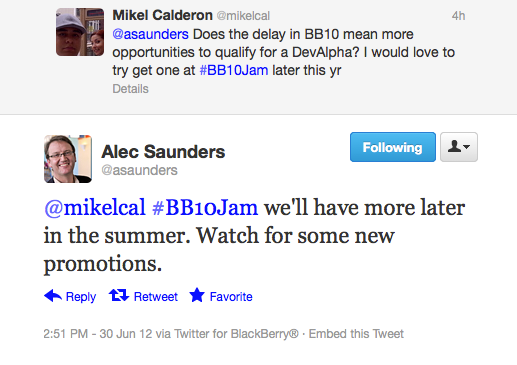 Saunder's tweet says more Dev Alpha devices will be handed out
In response to a question about whether the delay in the launch of a BlackBerry 10 would mean more of these Dev Alpha devices being put in developer's hands, Saunders said that
RIM will be handing out more this summer
, advising those interested to watch for promotions. The developer's handset is the same one that is being used internally to help build the first BlackBerry 10 powered devices, and
when they were first handed out at BlackBerry World last month
, some critics actually reviewed the device as though it was the first BB10 handset for the public.
The fact that Saunder is even talking like it's business as usual at RIM could be a front to prop up the stock, or even a bid to get more favorable terms in a buy out. It could simply mean that yes, it is business as usual for the company as they race to
get BlackBerry 10 launched before the grim reaper shuts the doors
for good at RIM. One last thought. While
RIM did tease some of the new features of BlackBerry 10
a couple of months ago, shouldn't they be rushing out some videos to whet the appetite of current Berry users who are dying for a reason to stick with the platform?
source:
BlackBerryOS